I didn't do much shopping this month, but still I have a few items I'd like to share. A lot of things from the Essence You Rock! LE, a few on sale things and some necessities. I divided them into three sections: Beauty, Make-up and Polishes.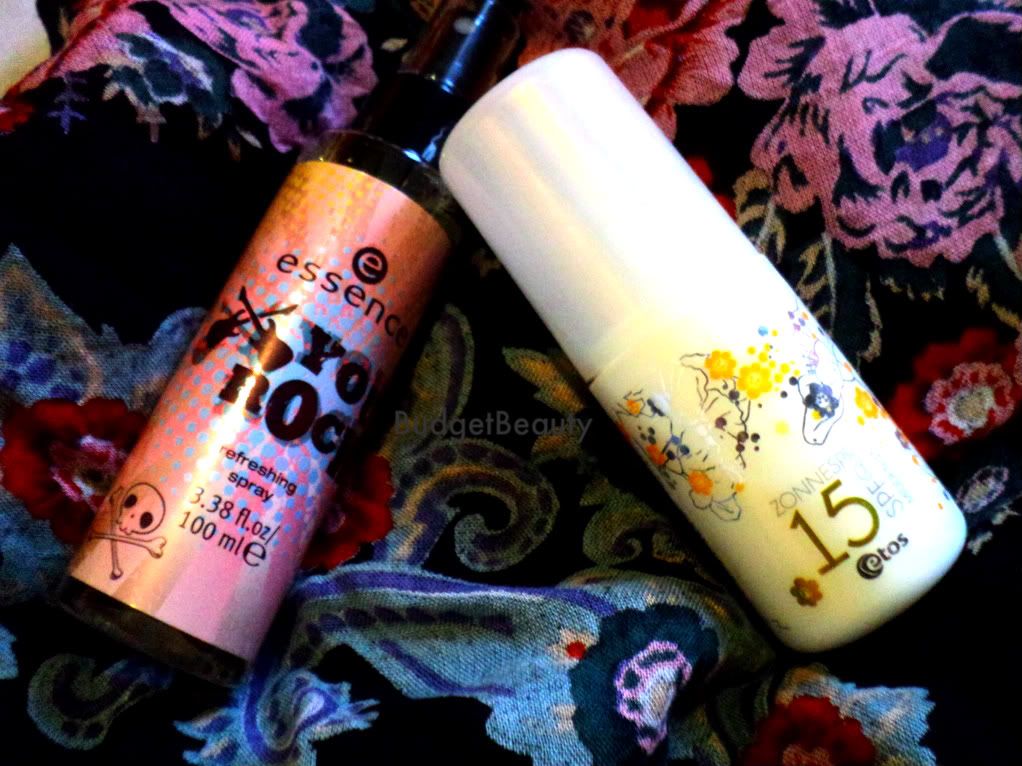 Etos sunscreen with spf15! I was able to pick this up for free if I liked their Facebook page, so that was pretty cool (: I didn't have any sunscreen yet so a free one is always good! I'd normally go for spf20 but they were out of those.
Essence You Rock! LE Refreshing Spray. This is pretty much a body splash, only with a very light scent. It's called Rock Chick's Refresher, very simple and maybe not very necessary but hey.. Why not? I like this spray because it's very refreshing and the scent is very fresh as well. Yummm!
Essence You Rock! LE Eyeshadow Base. This one's called Rock Chick's Base. I am a very big fan and I have absolutely no issues with creasing or whatsoever. You can find my review about this product
here
.
Essence Return to Paradise Eyeliner pen. Found this one on sale and was really impressed by the lovely color. I think this one is called Back to Paradise but I'm not a 100% sure. This one's from a LE that was launched in 2010 and cost me only €1,-
Another on sale item. A Catrice eyeshadow from the Floralista LE. This one was the LE in February and is called Berry Fairy.
Here
you can see it in action and a swatch.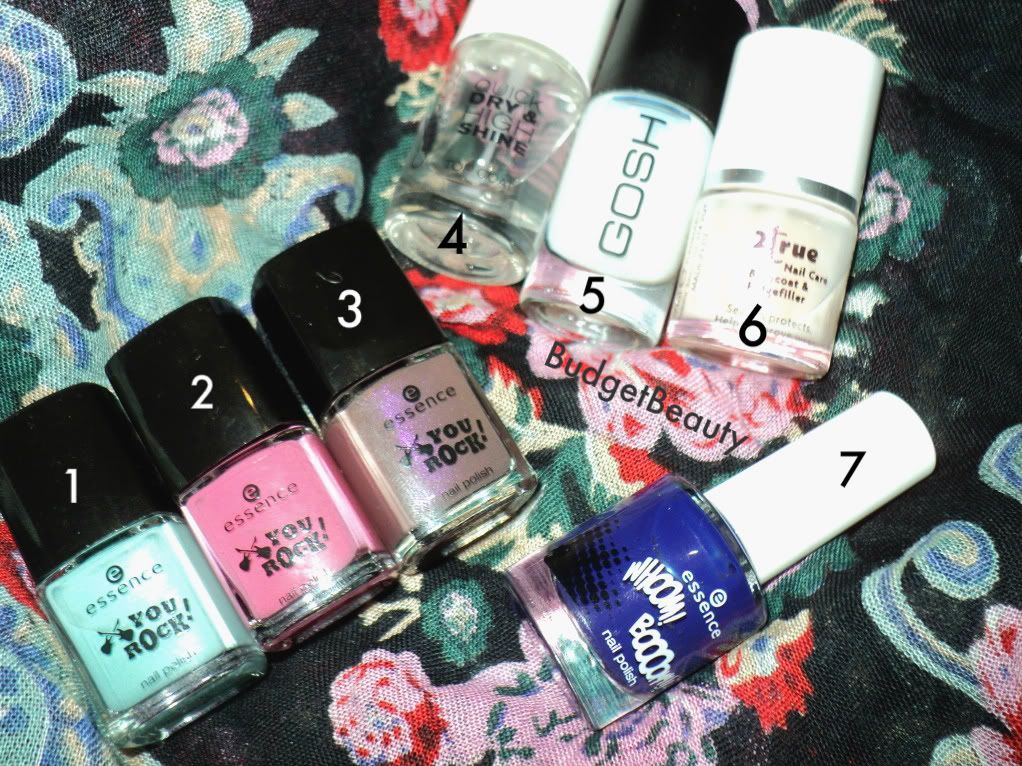 Of course I bought polishes... I numbered them to make it easier.
1. Essence - King of Mints (You Rock!)
2. Essence - Let me in Pink (You Rock!)
3. Essence - Love, Peace and Purple (You Rock!)
4. Catrice - Quick Dry & High Shine Top Coat
5. GOSH - Fix Base Coat
6. 2True - Basecoat & Ridgefiller
7. Essence - Chacalaca (Whoom! Booom!!)
I am a big fan of Love,Peace and Purple. It's the so called Chanel - Paradoxal dupe and it is preeeety! The Gosh basecoat is a back up since it was on sale. The 2True ridgefilling basecoat was a very nice surprise, because it really does it's job. Also I am seriously amazed by Chacalaca! This one is opaque in 1 coat and dries within seconds... I mean WOW! I still did not wear it as a full mani but I will soon (: Oh and the Catrice topcoat is a tiny disappointment. Yes, it's super shiny but it doesn't dry quick and it is super bubbly! I think it's time for me to order some INM or Seche Vite!
So these were my purchases for this month. Not a whole lot (compared to what I'd normally buy).
I did not get anything from the Catrice collection, I wanted the lashes but that would've been a waste of money.

Are there any products you'd like to see a review or swatches for?
xoxo
Nana