I don't think I ever talked about perfumes on this blog. Though I do think that perfumes are a part of your beauty routine. I have quite a wide variety of perfumes, most of them I don't even like that much. But scents are very important to me. And when I really go perfume shopping I mostly end up with nothing. Because I have a really hard time finding a perfume that I like and that I still like after wearing it 3 times.
Lately I noticed that I'm really into somewhat heavier scents, that still have a light tough to them.
A while back I got my brand new Elle magazine and there was a perfume sample inside.
You might be able to guess which perfume and by what brand it is by the name of the post.
The perfume is called Womanity and it's by Thierry Mugler. I have to be very honest and say that I've only heard the name, but was never tempted to go smell their perfumes. Until I got this sample!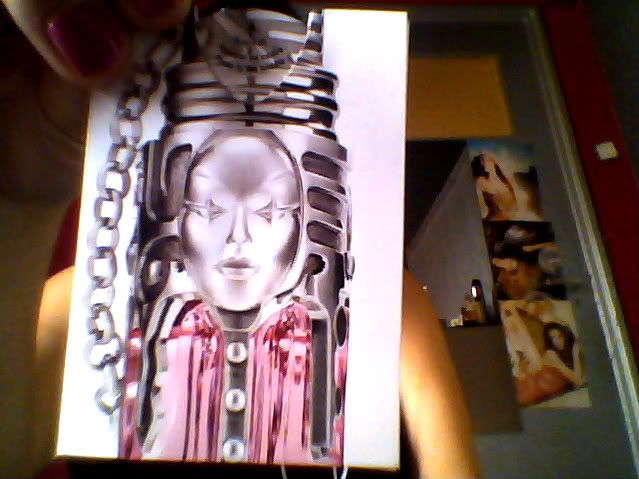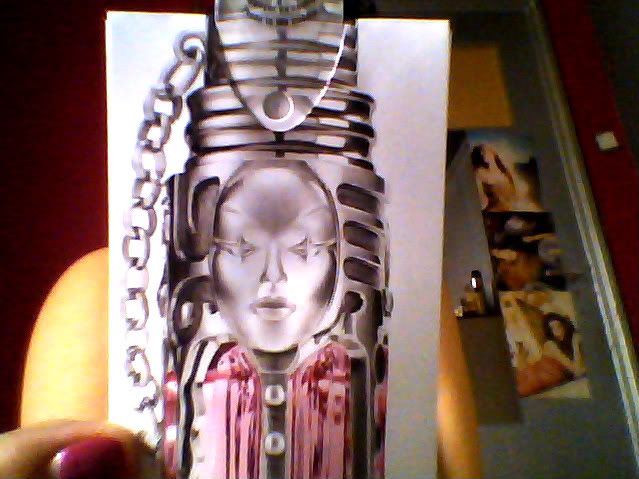 So I looked up the notes and some information about other perfumes and I must say that I am very tempted now to smell the others as well. Obviously Thierry Mugler made a very well known perfume named Angel. No I have never ever smelled it, or at least I wasn't ever aware of it. I read it contains chocolate, praline and patchouli. I'm not a big patchouli fan, but I surely do want to know what this perfume smells like!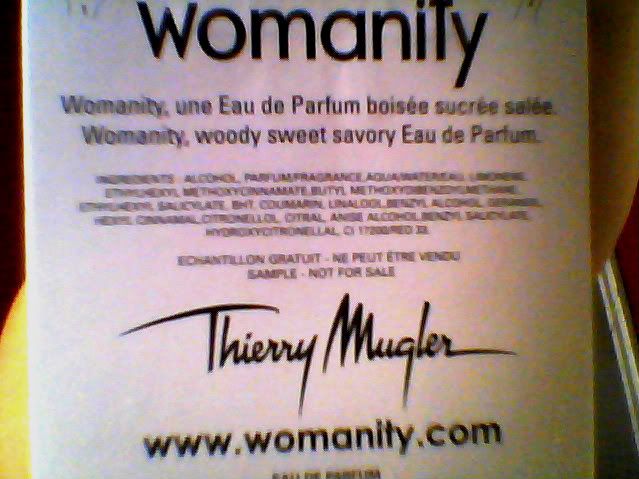 But on to the Womanity perfume. On the back of the sample it says: "Womanity, woody sweet savory Eau de Parfum." Now I am seriously terrible at recognizing scents unless I'm familiar with them, but I must say the description is pretty much what I smell. It's sweet, but not in a fresh and fruity way! It's a darker, deeper type of sweet. The savory part… well I have no idea how that's supposed to smell but I do think it's in there, somewhere.
Womanity was released in August 2010 so it's a shame I didn't find it sooner! It also received the Perfumer Award and is, so I've read, Lady Gaga's signature scent. Now that last part isn't really of interest to me at all, but it's a fun fact.
I'm not even going to try and describe the notes myself. I'll copy and paste them from the Womanity.com site. (Lazy much?)
First and foremost, the sweet brightness: sensuous and dazzling top notes: a fruity, juicy and delicately milky fig note – comforting.

Then the salty insolence of the caviar note: subtle, troubling, almost animal, with punch and appeal.

Finally, the elegance of a woody accord: green, sensuous and classy, derived from fig wood and leaves.
So far I've only smelled the top notes I guess, since I never actually wore the perfume. But so far I really enjoy it's scent. I really hope that it still smells good on my skin. I'm incredibly bad at describing things, but scents are the worst. All I can tell you about it is that it's a warm, strong and sensual scent. Not strong as in OMG too much perfume, but strong as in it makes a statement. From now on this perfume is on my wish list (and will probably not come off for a while). Once I own it, I will let you know of course.
What is your favorite type of perfume?
xoxo
Nana