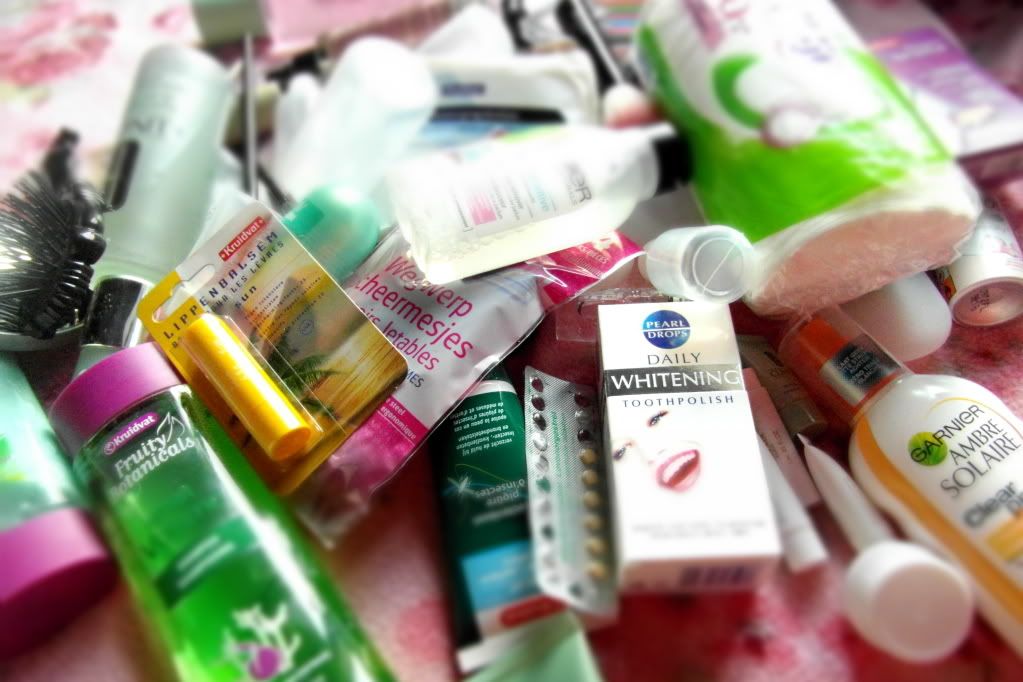 I think a lot of you enjoy going on a holiday. Somewhere far, far away or close by home.
But it can be quite a pain to figure out which beauty products to take with you and how to organize your beauty case/bag. So hopefully this post will give you the advise and tips you'll need. Or will remind you to bring something you would have forgotten otherwise. Of course it all depends where you are going, how long you are going and what you will be doing. If you're backpacking through Africa I doubt you'll be needing all of this. If you're off to go mountain climbing you definitely won't be needing much of this.
Warning:
post contains lots of text, but some parts
can
actually
be important!
I am going to Budapest for two weeks. The first week I'm just going to chill out in Budapest, checking out this city and do some sight seeing and shopping. The second week I'll be at a festival called Sziget. I will be staying in the same hotel these two weeks though, because I won't survive at a festival camping. Seriously.. first and last time I did that I felt miserable and homesick after two days. The people I was with didn't really help either. Yup, worst idea evar!
Problem no1 is packaging. Believe me,
you will NOT be needing a full bottle of shampoo
if you're only going away for 2 weeks. You do not need the boxes around your products either. So what do you do? You
unpack everything
to win space. Also you can buy either
mini bottles
of shampoo and shower gel or you can
buy empty bottles and jars
to put your product in. I did the last thing, because mini products are not always enough (for me..) and they barely ever have my favorite products. Okay, don't be shocked by my next picture, I am probably taking too much. But this is the first time I'm going away for two whole weeks so I think I
rather be safe then sorry
(: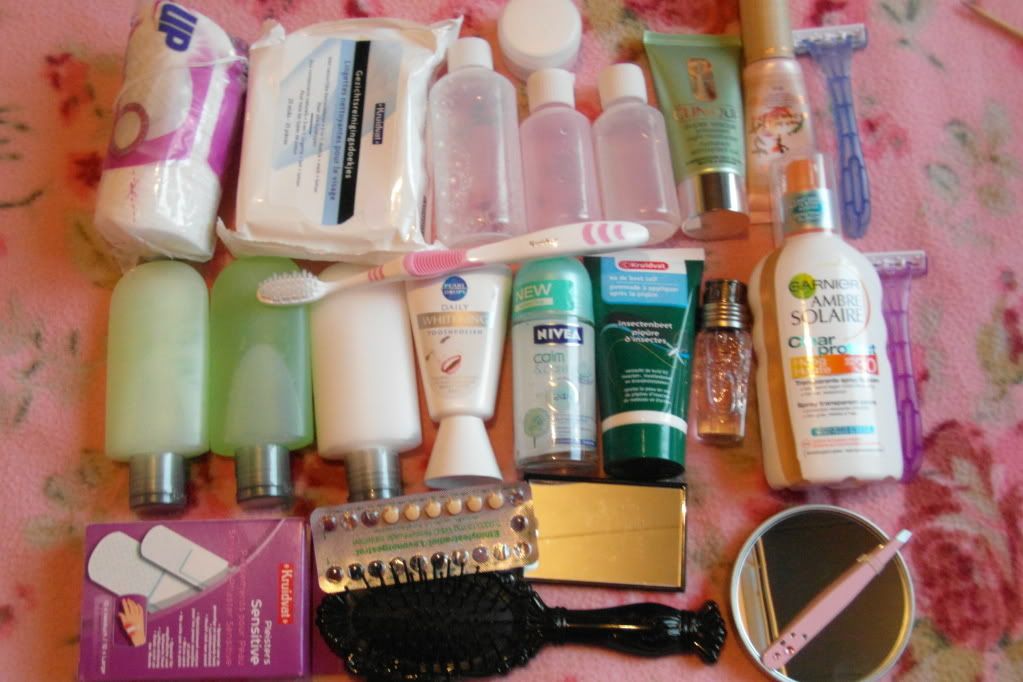 I'll name every product from left to right, top to bottom:
Top:
Demake-up cottons pads, Kruidvat make-up wipes, Garnier eyemake-up remover, Clinique clarifying lotion, Clinique liquid facial soap, Clinique super rescue night cream, Skin Food BB cream, Disposable razor
Middle:
Kruidvat shower gel, Kruidvat shampoo, Kruidvat conditioner, Pearl Drops toothpaste (only one that works to whiten my teeth), Toothbrush, Nivea deodorant, Kruidvat after bite, Thierry Mugler Womanity, Garnier Ambre Solair spf30, Disposable razor
Bottom:
Kruidvat bandages (again: better be safe than sorry)
,
the Pill, Hairbrush, a Magnifying mirror and Tweezers
And now it all fits perfectly! I might be taking a lot with me, especially doubling up on both make-up wipes and remover. But I do rather use remover then wipes to be honest. But I wont always have the time to fully remove everything, especially if we'll be back late.
Now moving on to make-up, I think it is important to
really figure out what you use most
and bring that with you. Also if you have
a product like BB Cream
bring that instead of moisturizer, foundation and sunblock. It'll save you loads of space. I would recommend bringing
concealer
, because those are smaller then foundations and will still cover up the things that need it. Also try to
limit your brushes
, most eye shadow can easily be applied with your fingers and so can concealer.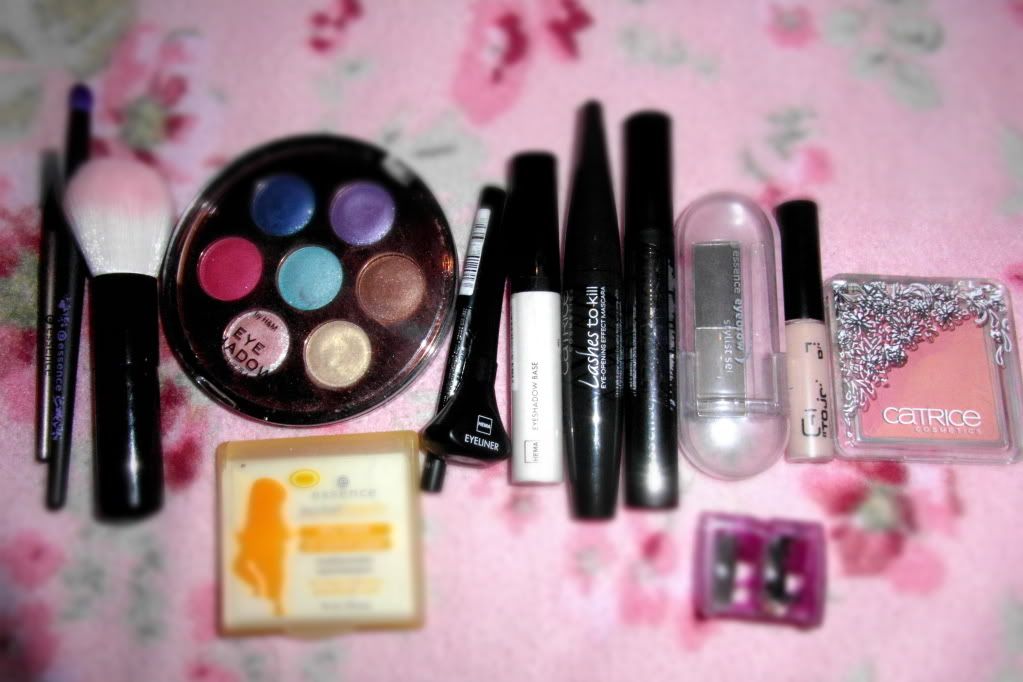 Brushes: Tiny brush (for eyebrow powder), crease brush, blusher brush.
Make-up: H&M Capri Breeze pallet, Essence eye pencil, Hema liquid liner, Hema eyeshadow base!!!, Catrice and Essence mascara (I always use two), Essence eyeshadow powder, Gosh Concealer and Catrice Blush.
Extra: Essence blotting paper and a pencil sharpener.
Why these brushes?
Because I cannot apply eyebrow powder with my fingers, because I will need a crease brush if I want to do a special look and because I cannot apply powder brush with my fingers either.
Why these make-up products?
A palette is
very versatile
, you can create more then one look throughout your holiday without bringing 6 different loose shades. Eye pencil and liquid liner are product I use a lot. The pencil for when I do a messy look (will be mostly during the festival) and the liquid liner for a crisp, clean line or a simple winged eye look.
Eye shadow base is super important
if you're going to do a make-up look. Especially if you're somewhere it can get really hot it'll make your look stay in place all day! Use it under the eyes to prevent eye pencils and mascara from smudging.
Eyebrow powder.. well ever since I got my brows done I want them to look perfect. Concealer to cover up dark spots, under eye circles and other unwanted things.
Why these "extras"?
Because I tend to get oily, specially when it's hot outside, so this will help me stay matte. I'm not bringing any powders because I will be applying it all day and that's just a waste. A sharpener is just for the eye pencil, since I will be using it a lot it does need to get sharpened.
And last but not least: Nail products.
If you are like me, you just cannot go two weeks without polishing your nails. Also it it still important to take care of your cuticles and nails, especially if you'll be swimming a lot.
The first item you see in this picture is a small manicure set. I decided not to bring this after all because I pretty much had everything that's in it already. Next to that I have a small bottle filled with polish remover, Gosh base coat, Essence Let me in Pink (you rock! TE), Essence love, Peace and Purple (you rock! TE), Sally Hansen cuticle&nail treatment pen, cuticle pusher (?), Disposable nail files and in the tiny round jar I have a bit of Lush Lemony Flutter.
I chose these products because they are
small, caring and easy to use
. Lemony Flutter is something I use daily, the Sally Hansen pen is to moisturize my nails after polish remover and the nail files are to keep my nails safe from tearing. I chose the polishes because they are pretty colors, small bottles and they dry quickly. Also they only need 1 coat. Base coat is something I don't go without, top coat is something I can go without.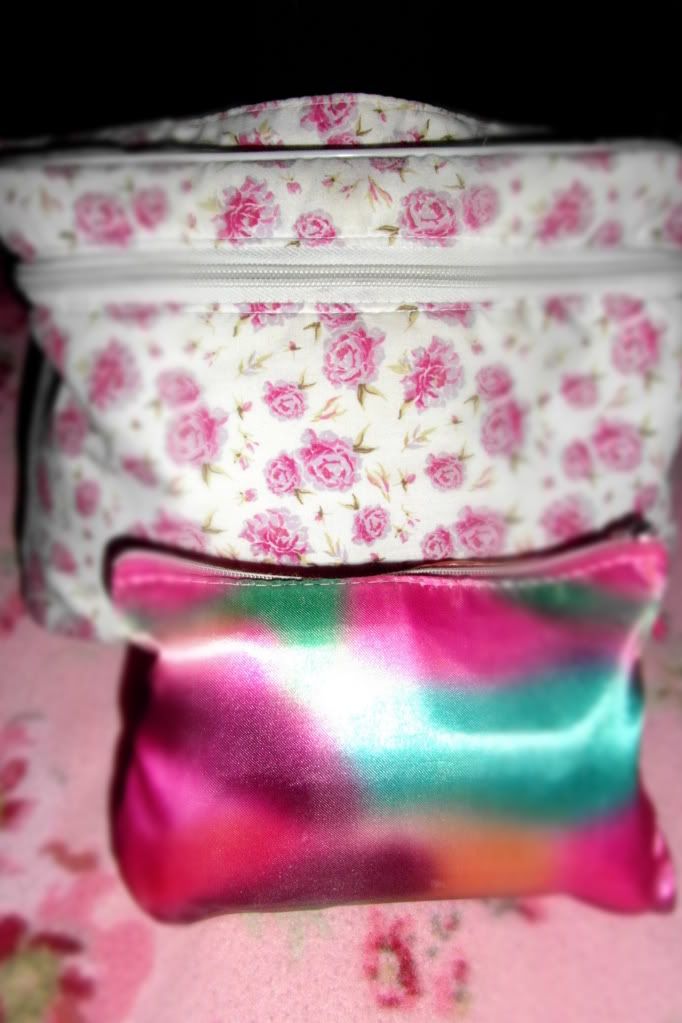 So these are the only two bags I bring that contain EVERYTHING I need (well.. beauty related that is, I will bring clothes and stuff!). I am allowed to bring 32 kilo's in my suitcase and 10 with me on the plane, so I guess I'm safe now :P
I hope this post was useful to some of you. This seriously is my first time flying and my first time going away for two weeks and my first time without any parents at all. So yeah, I'm pretty much on my own. Also I am the only person out of the four of us that actually is interested in skincare/make-up/beauty so I can't borrow stuff either. I think I have everything, all I have to worry about now is what clothes I should bring.
(A)
Where are you going on holiday this year?
xoxo
Nana