Finally I got around to doing this post! I told you a couple of times that I wanted to show you my two favorite budget mascaras, but it took me a long time to do. I never remembered to take pictures of my "naked" lashes so I couldn't show you what they actually did to my lashes.
The mascaras I'm talking about are the Essence Black Mania and the Catrice Lashes to Kill. Both super budget with great features and quality. I'm not sure if they are battle worthy, but I will be comparing them so let's make it a battle. Which one is best?
Essence Black Mania volume mascara

The Essence mascara is a so called volume mascara. I myself don't set high standards when it comes to mascara, simply because most mascaras make my lashes look good. I don't have long lashes myself but they have a nice curve and they aren't sparse either. The mascara doesn't have any clumps and separates nicely. It lengthens a bit which I like. They don't look more voluminous then before, but overall I am pleased with the result. It does a great job on my bottom lashes, nice separation and a little more volume. Also this mascara claims to be blacker than black. I just think it's black, it could have been blacker if you ask me.
Catrice Lashes to Kill eye opening affect mascara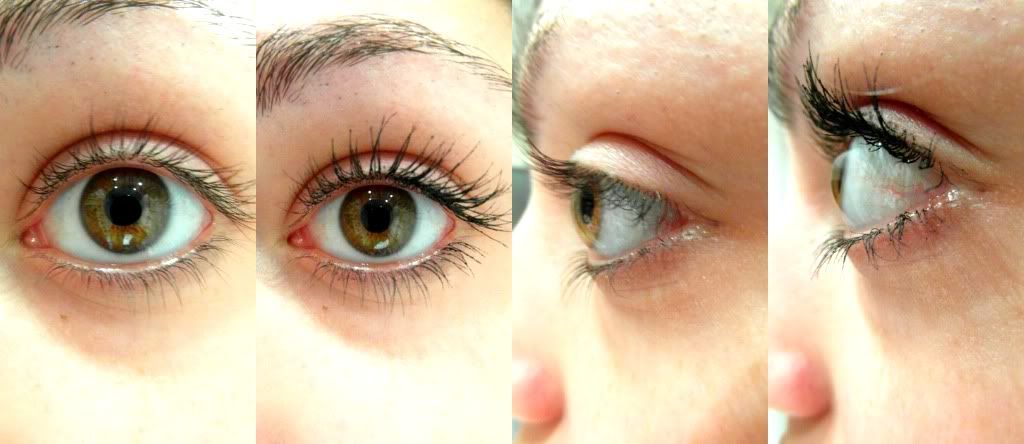 This mascara claims to be volumising, lengthening and it should curl your lashes. I definitely agree on the lengthening part! My lashes look a lot longer than without mascara. I love having super long lashes, like they should almost tickle my eyebrows. Especially when I'm wearing eyeliner I want my lashes to stick out of all the blackness. But the mascara doesn't really curl my lashes, it makes them almost stick straight. This one also doesn't really volumise my lashes, but I don't think it's a necessity. It separates nicely, has no clumps and lengthens perfectly. I don't like it on my bottom lashes though, they are too long yet too skinny for my taste.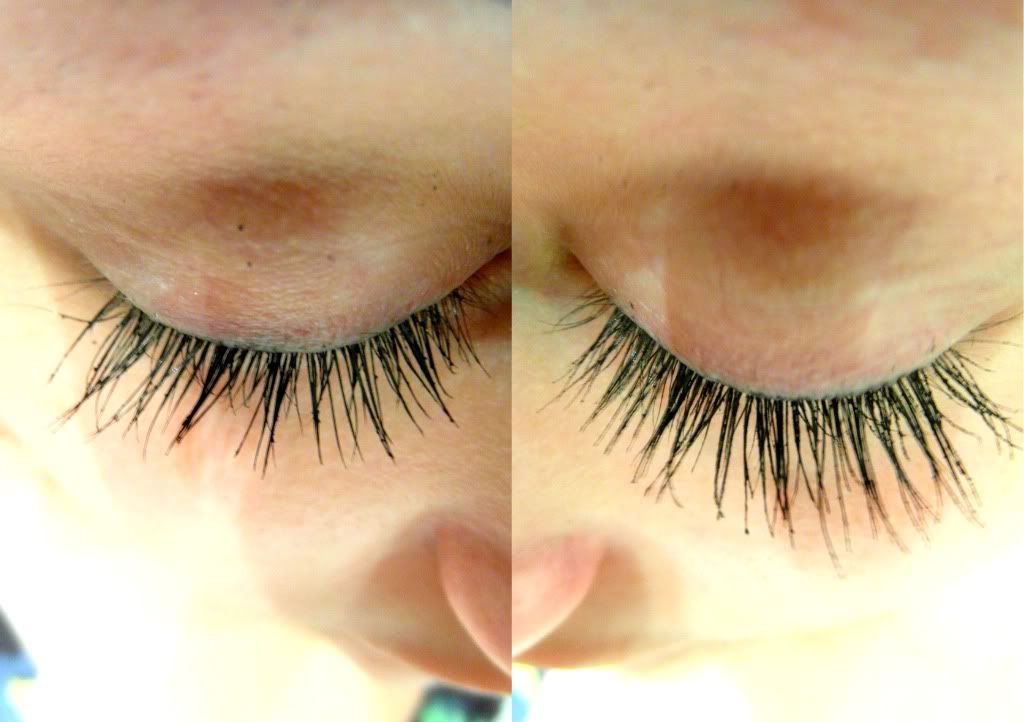 I think you can definitely see which eye has which mascara. But to be sure the picture on the left is Essence, the right one is Catrice. It's very clear that when you compare them this closely there is an obvious difference. Catrice gives slightly more volume and a lot more length. I am wearing only one layer of both of them though and out of experience I know that the Essence one is very build able without going all spidery on you. It fattens your lashes a bit more after two to three layers. Catrice doesn't really build up.
Again it's obvious, left is Essence and right Catrice. I must say that looking at them like this I do prefer the Essence mascara. The Catrice one makes my lashes look kind of weird at the side.

When it comes to Essence VS Catrice I have to admit that Catrice ticks more boxes. But my personal opinion is that I love them both equally. I always use two mascaras on my lashes because then i definitely get both volume and lenght. I'm a sucker for fat, big lashes and this is how I create them.
Catrice Lashes to Kill mascara costs €3,99 and is available a few
countries
in Europe.
Essence Black Mania mascara costs €2,49 and is available in tons of
countries
in Europe and at
Ulta
in the US.
What is your favorite mascara?
xoxo
Nana