Dude, I totally missed you!!!! (Anyone that guesses the song is awesome!)
I couldn't stay away from blogging two more days. I saw that a few people were interested in my personal blog, so if you want to check it out it's at the bottom of the "about me" page.
I had the time today and I kinda promised I would put this up a while back. See, a little while ago I posted a request for you to give me a challenge. Unfortunately I barely got any response to that (laze basterdz... :P) but someone did. She
challenged me
to do a Ke$sha look. Well of course! How hard could that be? Well... it was pretty hard deciding which look I should go for really.
Curious which one I chose?
Easy peasy you'd say! Well, yes actually. I had a different look I wanted to do, but I didn't have blue and gold face paint unfortunately ): So, here's my youtube vid about this fun look. Oh, I would really like it if you guys subscribed to
my channel
by ze way. I'll love you forever!
And now of course, THE pictures (: I didn't try too hard with them this time, since the look was pretty much out there already. Instead I went crazy with editing them, making them all a little different.
I did go with a different lip color, because I needed a little more color in my face. But the camera did not at all pick up the true color of it. Which is an extremely neon pink that would almost hurt your eyes. (: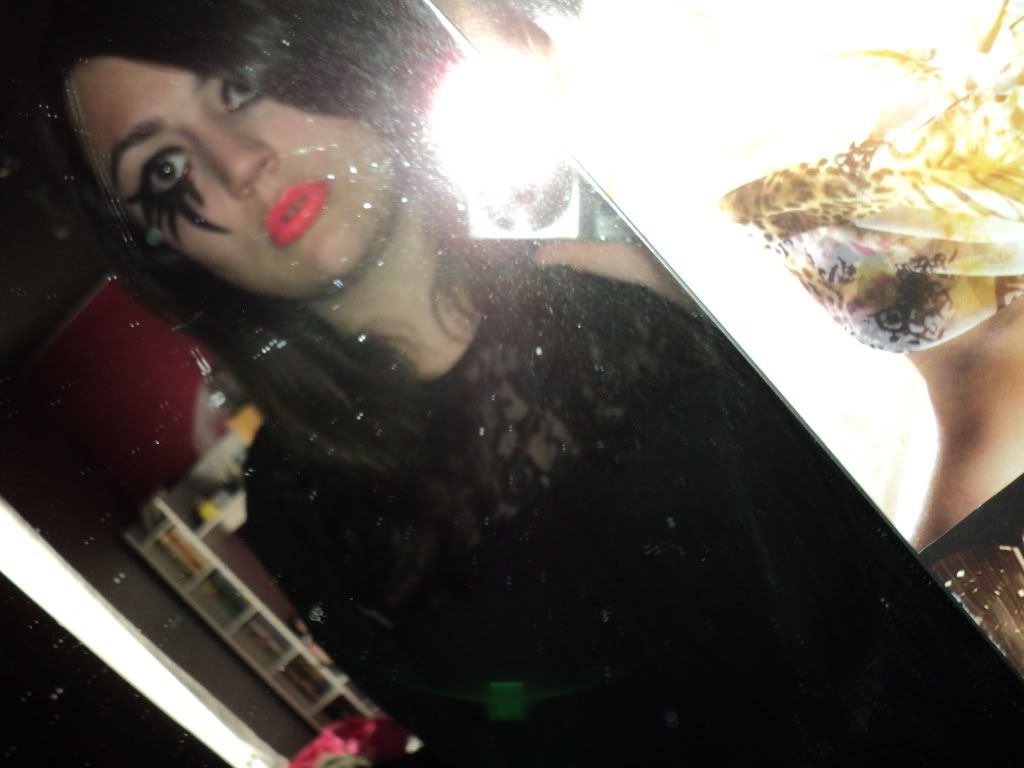 NOT my most charming picture, but this is the true color of the lipstick.
See how bright it really is?! oh and sorry about the icky mirror! (A)
Face:
Bourjois Healthy Mix concealer
2true all over bronzing powder
Eyes:
GOSH eyeshadow base
Essence Black Mania eye pencil
Etos Smokin' Sexy eye kit (eye shadow)
2true Effortless Eyeliner (liquid liner)
Essence Carbon Black mascara
Catrice Lashes to Kill
Lips:
Bourjois Healthy Mix concealer
Rimmel Moisture Renew Lipstick in Nude Delight (700)
And in pictures I used an unknown cheap ass, smelly lipstick in a neon pink color.
I hope you guys missed me just as much and are happy I'm back.
Lots and lots of love,
Nana